MDC Aluminum Pad Installation Instructions For 2 Bolt Models
To remove or replace the MDC low-profile, high traction aluminum treads, use a 5mm hex head socket with a ratchet
wrench to release the two bolts. Your treads are also set in place with a silicone adhesive. You will need to hammer the
treads away from the stirrup using a plastic or rubber hammer as the silicone has produced a tight seal. If you use a
metal hammer, you must protect the soft aluminum material with a towel. Strike the treads firmly to release the
silicone seal. If the tread remains in place, strike the tread with more force.
We want your treads to be secure and tight. Only a ratchet wrench will be able to achieve maximum security. Apply a
bead of waterproof, 100% silicone to the underside of the treads to the left and right of the four rails where the screws
attach. Put the treads back in place, tighten and let the silicone dry. This should insure a secure fit with no tread
movement. You may need to use a rubber or plastic hammer to tap your stirrups into place over the screw holes. This is
a close fit to insure security. Do not over-tighten the screw as it may strip. A recommended product available in the
USA is GE, Premium Waterproof 100% Clear Silicone II.
ALWAYS CHECK THE TIGHTNESS OF THE SCREWS FOR A SECURE ATTACHMENT FOR YOUR SAFETY.
IT IS A GOOD HORSEMAN WHO CHECKS THEIR TACK AND THE CONDITION OF THEIR HORSE PRIOR TO EVERY RIDE.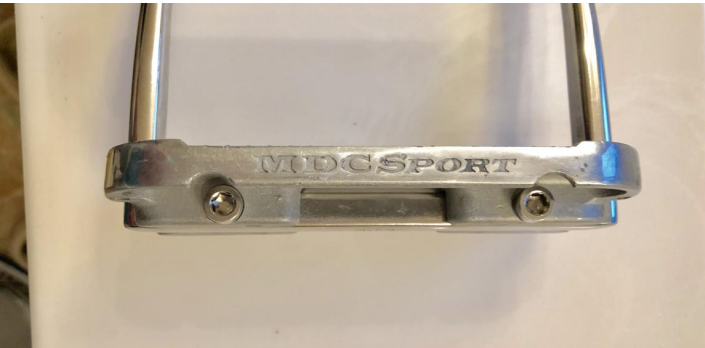 Older Models Use This Two Bolt Attachment