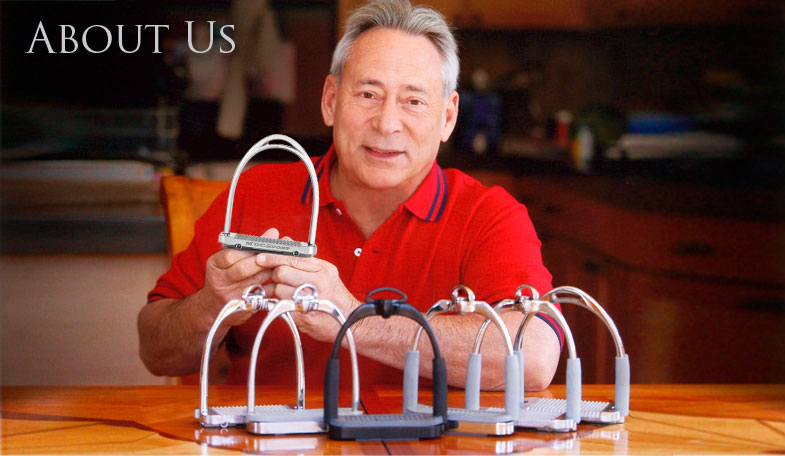 MDC Stirrups are innovative patented products for the modern rider. MDC has old fashioned ideas like customer service, one on one communication with our customers, and that our customers have all the information they need to make their purchase before they pay for the product.
MDC guarantees that anyone who does not LOVE our stirrups gets their money back.
The times of talking to uninformed 'order takers' is not acceptable at MDC. You can speak directly with the inventor, Martin D. Cohen, by telephone or email to discuss your stirrup needs or any questions you may have about MDC Stirrups or stirrups in general.
Here are some of the things MDC can do for you:
● Personal stirrup consultation
● Discussion of performance, pain reduction and safety characteristics
● Personal discussion of your correct stirrup size
● MDC will send any of our nine models for your Free Trial Ride; you may return any or all of your trial ride selections. We just ask that your returned stirrups come back clean and with all the packaging. You are only responsible for the shipping to and from MDC.
● MDC ships by United States Postal Service World Wide
You can receive your free stirrup consultation by calling: 831-393-0588, 9am-3pm Pacific Time or email: mdc@mdcstirrups.com.
There is no obligation to make a purchase; just contact MDC to discuss any questions you may wish to ask.
Please remember that it is three hours earlier in California than the East Coast. Our European, Australian and South American callers should check their time zones when making their calls.
I look forward to receiving your call.
4444 Ocean Heights Ct Seaside CA, 93955
Martin D. Cohen, Horseman First / Inventor Second. 
 Articles of Interest